Welcome to DZ Carpentry
As the owner of DZ Carpentry, my philsophy is simple: listen to what people want and assist them in making their home construction or renovation dreams come true.
Understanding what people want, and working with them to achieve their goals is what sets me apart. I won't tell you what to do, but I will offer you alternatives and allow you, the customer, to make the final decision that works best for you.
It is my attention to detail that differentiates me. I believe in quality over quantity and in doing the job right the first time.
Dave Zorgdrager, Owner
In The News
READY TO ROLL
SCOTT WISHART / The Beacon Herald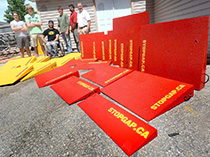 Twenty-four custom-built wheelchair ramps are nearly set for delivery to downtown businesses participating in the local StopGap community ramp project. Shown with the ramps Friday are, from left, St. Michael Catholic Secondary grade 11 construction technology students Ryan Ropp and Greg Monden, Stratford StopGap initiative team lead Roger Koert, grade 11 student Luke Merkel, project partner Dave Zorgdrager of DZ Carpentry, who donated materials for the project, and Mark Flanagan, technology department head at St. Michael. The three St. Michael students volunteered their time during lunch and after school to complete the ramps in just over one week. The sturdy but portable ramps will allow easy access for those in wheelchairs to many downtown stores and businesses.

Client Feedback
"The tradespeople at DZ were capable, courteous and conscientious – in short professional.  When challenges arose they were able to suggest creative solutions. We were most impressed with their efficiency and the care they took when working in close proximity to our neighbours." – John & Leslie Wright